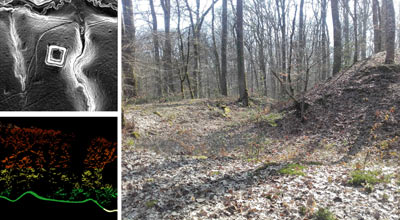 Tronçais State Forest (Allier, France)
Archaeological exploitation of LiDAR data
The Tronçais state forest is one of the most beautiful oak forests in Europe, labelled "exceptional forest" by the ONF. This sector has been the subject of archaeological research, particularly since 2000 as part of the PCR-Berry. In 2016, a LiDAR survey covered the forest and its surroundings, revealing the relief left by ancient developments: buildings, agricultural structures, ponds, extraction areas, pond dykes, charcoal pits, roads and paths, etc.
Protected direct access (login)
---
---
Ground surveys were then carried out to check over 900 of these LiDAR indices. The dates provided by the furniture confirm the predominance of ancient occupations, but many structures are still undated. Spatial analysis work is currently being carried out to identify these sites and networks in their environment, their proximity relationships, their relative chronology and their morphology.
Project leader: Laure Laüt.
Other contributors (GIS mapping):

Christophe Batardy,
Sophie David,
Angélique Montès,
Tiphaine Pabois-Maumené.
Partner and/or funding institutions: